RABBI'S MESSAGE
From the desk of Rabbi Yosef Sanders

A Slap for the Ages

Shalom Shul family,

It was in the times of the horriffic Cantonist decree, wherein the Czarist government would snatch young Jewish boys away and forcibly conscript them into the army for 25 years, hoping to relieve them of their religious beliefs along the way.

Troops arrived in the city of Brisk, and all who could made themselves scarce, so as to avoid capture.

The local Melamed, teacher, was a very holy man. He was known as "der blinder", the blind one, because he would habitually shut his eyes when in the street so as to spare himself from seeing anything impure. "Der Blinder" was studying Torah with a group of young students, and in marched one of the Czar's soldiers, demanding compliance with this evil decree.

The Rebbi was upset at having his lesson interrupted. He walked over to the individual responsible for disturbing, and gave him a sharp slap in the face!

This was viewed as an insult to the Czar himself, and it was only after much effort that the community leaders were able to secure a release for the Melamed from this seemingly unpardonable crime.

When it was all over, the esteemed Rabbi of Brisk, Rabbi Yosef Dov haLevy Solovocheichik, approached the teacher and asked him how he had the temerity to do such a thing.

The Rebbi did not seem to understand the question. "We were in the middle of a passage of Talmud, and this man had the Chutzpah to interrupt!"

Years later, this man's grandson studied under the sainted Chafetz Chaim, who told him that his Zeidy's slap will stand by his descendants until the Messiah arrives.

In our times, Jewish traditions are not forcibly challenged by armies and soldiers. But the forces that are at work today to erode our Jewishness are not less threatening; perhaps even more so.

We must draw upon our internal - and eternal - reserves, and deliver a determined, figurative "slap in the face" to everything that seeks to shift us away from the path and destiny entrusted upon us.

Shabbat Shalom!

Thank you,

Yosef S

REOPENING UNDER COVID

The risks associated with COVID-19 are still significant and we must remain vigilant. We must ensure that Services take place in compliance with the social distancing requirements and all relevant
provincial health guidelines.

• Individuals who have experienced any of the following symptoms in the last 48 hours are asked not to participate at this time: Fever, cough, muscle aches and tiredness, difficulty breathing, sore throat, diarrhea, or loss of smell and/or taste.

• Individuals who have had unprotected (without full PPE) exposure to someone with COVID-19 in the last 14 days are asked not to participate at this time.

• Individuals who have been outside of the Province during the past 14 days are asked not to participate at this time.

• Individuals above the age of 70 or those who have a chronic medical condition, physical disability or a weakened immune system (due to medical or health condition) are asked to consult their doctor prior to participating.

• At present time, the Shul will only be open for Services and no other activities.

• A minimum physical distance of 6 feet (ideally, 8 feet) must be maintained at all times between Congregants. The Shul will be prepared in a way so that placeholders are clearly marked to assist
in the process.

• Current medical advice strongly preferences wearing a mask when in the shul. WE MUST ASK ALL IN ATTENDANCE TO WEAR MASKS. Please bring your own mask.

• All are asked to use hand sanitizer or wash hands with soap and water upon entry and exit from the Shul , as well as upon entry and exit from the washroom.

• Aliyah to the Torah.

Please do not mount the Bima, with the exception of the Reader.

Those getting an Aliya will stand outside the Bima, at the SW corner, and look on from a distance.

Lifting the Torah and rolling it closed will be preformed by two members of the same family.


The custom of kissing the Torah Scroll will not be observed at this time. Please "kiss" the Torah with your eyes.


Choose a Siddur and Chumash, and leave it at your seat. Please do not collect Siddurim and Chumashim.

Please use your sleeves to open the door upon exiting the building.
PREVIOUS MESSAGES:
UNORTHODOX CONFESSIONS OF AN ORTHODOX RABBI
COVID - 19 RELIEF
SPECIAL COVID-19 ASSISTANCE

One of our Congregants has launched a project to provide cooked Shabbat meals for those who are in need at this time.
Please use this link to apply:
Covid - 19 SHABBAT MEALS
WOMEN'S LEARNING AND PROGRAMMING
Rebbetzin Gail Michalowicz invites Country Shul women to join her Zoom offerings!
PLEASE USE THIS LINK FOR ALL MEETINGS:
Women's Programming Zoom Room
​​​​​​
Weekly Home Discussion Group
​​​​​​​
Currently held on Thursdays @ 8:30 PM • Please call for location
YOUTH PROGRAMMING!
FOR THE KIDS!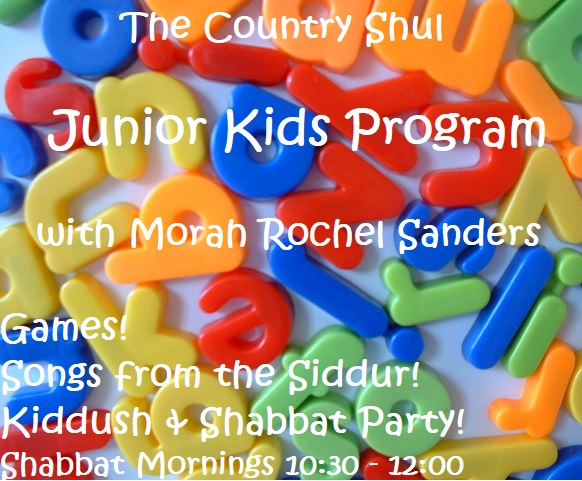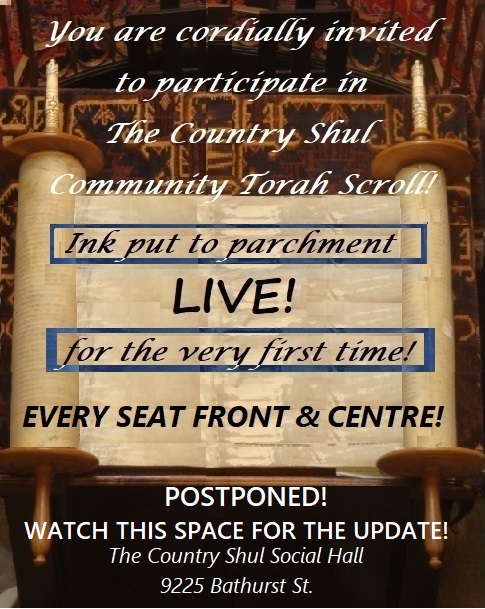 Mazel Tov to The Award Recipients at the Chanukas HaBayit and Opening Dinner on Sunday June 3rd, 2018!
Thank you to all the participants of the Mental Health Symposium. Photo Gallery coming soon.
Thank you to the organizers of the Rosh Chodesh Women's Evening, and thank you to Erica Bookbinder for the great presentation on Home Organizing.
Check out our Upcoming Events or Book a Kiddush celebration with us Today!
Join us every week for uplifting and inspiring Shabbat Services!
Update this content.
PROGRAMS, CLASSES & EVENTS
The Country Shul Weekly Schedule
Upcoming this week in
August
Wed
12
8:30p
Homegroup Adult Learning w Rabbi Sanders (Men & Women)
Homegroup Adult Learning with Rabbi Sanders For Men & Women (Pirkei Avot)
8:30p
Wednesday Night Home Group w Rabbi Sanders
Join Rabbi Sanders and Country Shul Members each week in a Members home for an intimate, lively and social evening and Torah class. For Men & Women! Contact Rabbi Sanders at rabbi@countryshul.org if interested in joining or hosting! Walk-ins welcome!
Sat
15
Shabbos Mevarchim
Parshas Re'eh
10:45a
Shabbat Children's Program
Ages 6-12 ( Learn Hebrew, Jewish Prayers, Meaning of Jewish holidays, Stories, Songs, Ethics, Character Development, Games, Fun, Inspiration!
Tue, August 11 2020
21 Av 5780
Sign-Up for Our Weekly Newsletter
Schedule
Friday Night
Shabbos Day
Shacharis

: 9:00a
Shabbat Children's Program

: 10:45a
Mincha

: 7:40p
Maariv

: 9:11p
Havdalah

: 9:11p
Upcoming Programs & Events
---
This week's Torah portion is

Parshas Re'eh
Candle Lighting
Havdalah
Motzei Shabbos, Aug 15, 9:11p
Shabbos Mevarchim
View Calendar
Zmanim
Alos Hashachar
4:39a
Earliest Tallis
5:20a
Netz (Sunrise)
6:18a
Latest Shema
9:50a
Zman Tefillah
11:01a
Chatzos (Midday)
1:22p
Mincha Gedola
1:58p
Mincha Ketana
5:30p
Plag HaMincha
6:58p
Shkiah (Sunset)
8:27p
Tzais Hakochavim
9:14p
More >>
Tue, August 11 2020 21 Av 5780