RABBI'S MESSAGE
From the desk of Rabbi Yosef Sanders

A PANDEMIC BRIS

Dear Shul Family,

In a different time, it would likely have been different. A Shul setting, tens of guests in attendance, grandparents, relatives, and friends.

Alexander Aharon haLevi's Bris was held at home. In the company of exactly five adults. (Those mentioned above availing themselves of the Zoom Meeting service.)

But perhaps the moment was all the more more poignant, precisely because of the unique circumstance. When all of the extra trappings are shed, the initiation of this young man into the Covenant of Abraham is felt full force. The dedication of Alexander's parents to circumcise their son today flew across the generations to join the shared convictions of Jewish parents of all times, when they preservered, even under restricted conditions, and insisted upon a Bris for their sons.

The Covenant of the Jew is to accept a mission in life as a Servant of G-d. One who performs a Mitzvah engages in Holiness during the course of this performance. The Servant of Hashem, however, is wrapped in entirety within a bond of purity, of positive energy, and this carries them through life.

We all accompany this young Servant in his new task, and we wish him utmost success!

Shabbat Shalom,

Yosef S

REOPENING UNDER COVID

The risks associated with COVID-19 are still significant and we must remain vigilant. We must ensure that Services take place in compliance with the social distancing requirements and all relevant
provincial health guidelines.

• Individuals who have experienced any of the following symptoms in the last 48 hours are asked not to participate at this time: Fever, cough, muscle aches and tiredness, difficulty breathing, sore throat, diarrhea, or loss of smell and/or taste.

• Individuals who have had unprotected (without full PPE) exposure to someone with COVID-19 in the last 14 days are asked not to participate at this time.

• Individuals who have been outside of the Province during the past 14 days are asked not to participate at this time.

• Individuals above the age of 70 or those who have a chronic medical condition, physical disability or a weakened immune system (due to medical or health condition) are asked to consult their doctor prior to participating.

• At present time, the Shul will only be open for Services and no other activities.

• A minimum physical distance of 6 feet (ideally, 8 feet) must be maintained at all times between Congregants. The Shul will be prepared in a way so that placeholders are clearly marked to assist
in the process.

• Current medical advice strongly preferences wearing a mask when in the shul. WE MUST ASK ALL IN ATTENDANCE TO WEAR MASKS. Please bring your own mask.

• All are asked to use hand sanitizer or wash hands with soap and water upon entry and exit from the Shul , as well as upon entry and exit from the washroom.

• Aliyah to the Torah.

Please do not mount the Bima, with the exception of the Reader.

Those getting an Aliya will stand outside the Bima, at the SW corner, and look on from a distance.

Lifting the Torah and rolling it closed will be preformed by two members of the same family.


The custom of kissing the Torah Scroll will not be observed at this time. Please "kiss" the Torah with your eyes.


Choose a Siddur and Chumash, and leave it at your seat. Please do not collect Siddurim and Chumashim.

Please use your sleeves to open the door upon exiting the building.
PREVIOUS MESSAGES:
UNORTHODOX CONFESSIONS OF AN ORTHODOX RABBI
COVID - 19 RELIEF
SPECIAL COVID-19 ASSISTANCE

One of our Congregants has launched a project to provide cooked Shabbat meals for those who are in need at this time.
Please use this link to apply:
Covid - 19 SHABBAT MEALS
WOMEN'S LEARNING AND PROGRAMMING
Rebbetzin Gail Michalowicz invites Country Shul women to join her Zoom offerings!
PLEASE USE THIS LINK FOR ALL MEETINGS:
Women's Programming Zoom Room
​​​​​​
"The Beer and the Boys" - Monday Night "Chavruta" Learning Join us for some beer, wings, and one-on-one learning
Update this content.
Weekly Home Discussion Group
​​​​​​​
Currently held on Thursdays @ 8:30 PM • Please call for location
YOUTH PROGRAMMING!
FOR THE KIDS!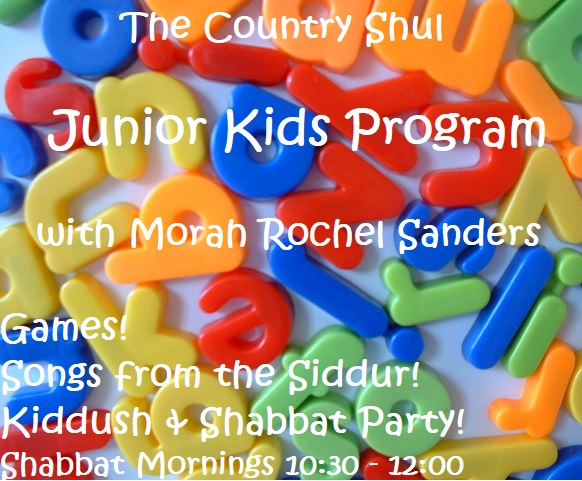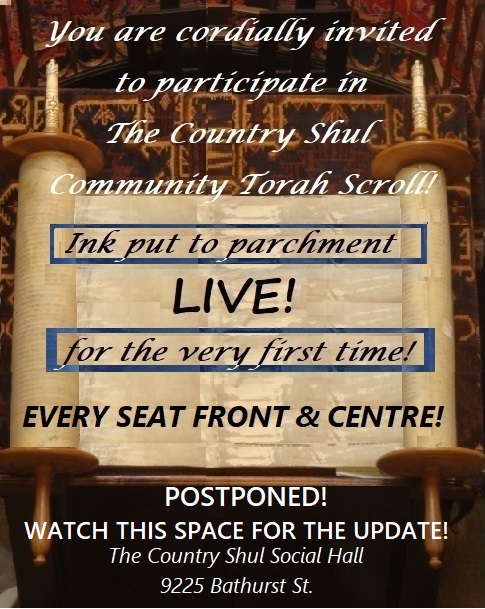 Mazel Tov to The Award Recipients at the Chanukas HaBayit and Opening Dinner on Sunday June 3rd, 2018!
Thank you to all the participants of the Mental Health Symposium. Photo Gallery coming soon.
Thank you to the organizers of the Rosh Chodesh Women's Evening, and thank you to Erica Bookbinder for the great presentation on Home Organizing.
Check out our Upcoming Events or Book a Kiddush celebration with us Today!
Join us every week for uplifting and inspiring Shabbat Services!
Update this content.
PROGRAMS, CLASSES & EVENTS
The Country Shul Weekly Schedule
Upcoming this week in
July
Sat
4
Parshas Chukas-Balak
10:45a
Shabbat Children's Program
Ages 6-12 ( Learn Hebrew, Jewish Prayers, Meaning of Jewish holidays, Stories, Songs, Ethics, Character Development, Games, Fun, Inspiration!
Wed
8
8:30p
Homegroup Adult Learning w Rabbi Sanders (Men & Women)
Homegroup Adult Learning with Rabbi Sanders For Men & Women (Pirkei Avot)
8:30p
Wednesday Night Home Group w Rabbi Sanders
Join Rabbi Sanders and Country Shul Members each week in a Members home for an intimate, lively and social evening and Torah class. For Men & Women! Contact Rabbi Sanders at rabbi@countryshul.org if interested in joining or hosting! Walk-ins welcome!
Sat, July 4 2020
12 Tammuz 5780
Sign-Up for Our Weekly Newsletter
Schedule
Today's Calendar
Shacharis

: 9:00a
Shabbat Children's Program

: 10:45a
Mincha

: 8:22p
Maariv

: 9:53p
Havdalah

: 9:53p
---
Friday Night
Shabbos Day
Shacharis

: 9:00a
Shabbat Children's Program

: 10:45a
Mincha

: 8:19p
Maariv

: 9:50p
Havdalah

: 9:50p
Upcoming Programs & Events
---
This week's Torah portion is

Parshas Chukas-Balak
Candle Lighting
Havdalah
Motzei Shabbos, Jul 4, 9:53p
Fast of Tammuz
View Calendar
Zmanim
Alos Hashachar
3:42a
Earliest Tallis
4:34a
Netz (Sunrise)
5:42a
Latest Shema
9:31a
Zman Tefillah
10:49a
Chatzos (Midday)
1:22p
Mincha Gedola
2:01p
Mincha Ketana
5:51p
Plag HaMincha
7:27p
Shkiah (Sunset)
9:03p
Havdalah
9:53p
Tzais Hakochavim
9:57p
More >>
Sat, July 4 2020 12 Tammuz 5780